Did you know that in 2023 the nursery will already be 85 years old?
We are a dynamic and experienced third generation nursery that specializes in evergreen Clematis, special Magnolia and Skimmia's with berry's. Within our company, quality, service and innovation are of great importance.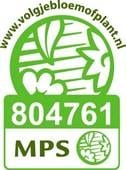 Featured
We would like to introduce you to two products from our range that will be visually very attractive and widely available in the coming season.
For information about these products, click on the relevant photo.
MPS gecertified
The MPS-ABC certificate has been obtained since 2018. This is more than a certificate. It is a unique standard in the world and acts as a yardstick that shows the extent to which business operations are environmentally friendly. We are MPS-A certified, which means that the company is the most environmentally friendly. Compared to MPS-B or MPS-C.
We can be found under the MPS number 804761.
Learn more on https://www.my-mps.com/certificaten-producent/gecertificeerde-bedrijven.
We can provide Magnolia P9 in species indicated below.
Black Beauty
Blue Opal
Butterflies
Celopatra PBR
Daybreak
Daphne
Emperor PBR
Elizabeth
Fragrant Coud
Genie
Gold Star
Jade Lamp
Joli Pompon
Judy Zuk
Kobus Fastigiata
Marilyn
Pegasus
Purple Star
Pink Pyramid PBR
Red as Red
Sentinal
Shirazz
Starburst PBR
Sunrise
Sunsation
Sweet merlot
Thousend Butterflies
Watermelon PBR
Woodsman
Yellow Bird
Yellow Lantern
Yellow River
Virg. Ludoviciana
Virg. Moonbeam
Virg. Australis
Company information

VarB number: 600055459
Phytosanitairy number: NL-620491140
Chamber of Commerce: 77811798
MPS-number: 804761
Floriday: 39782